We could all use a little help in the kitchen, especially when it comes to making easy and healthy dinners. Here are ten guilt-free international slow cooker recipes to help you out!
I am resolutioning the crap out of 2016. There's just something about a new year that feels like a clean slate, right?
This year, I'm going to exercise and meditate every day, keep my house clean, eat right, and win an academy award.
Riiiiight. Well, we all have to start somewhere, and it might as well be with some fun international slow cooker recipes that are easy on the waistline and easy on your schedule.
Here are ten beautiful pictures and recipe links for you to enjoy!
Vegan Black Bean Soup from Emilie Eats
Black bean soup is a staple in my house; making it in the slow cooker is game-changer!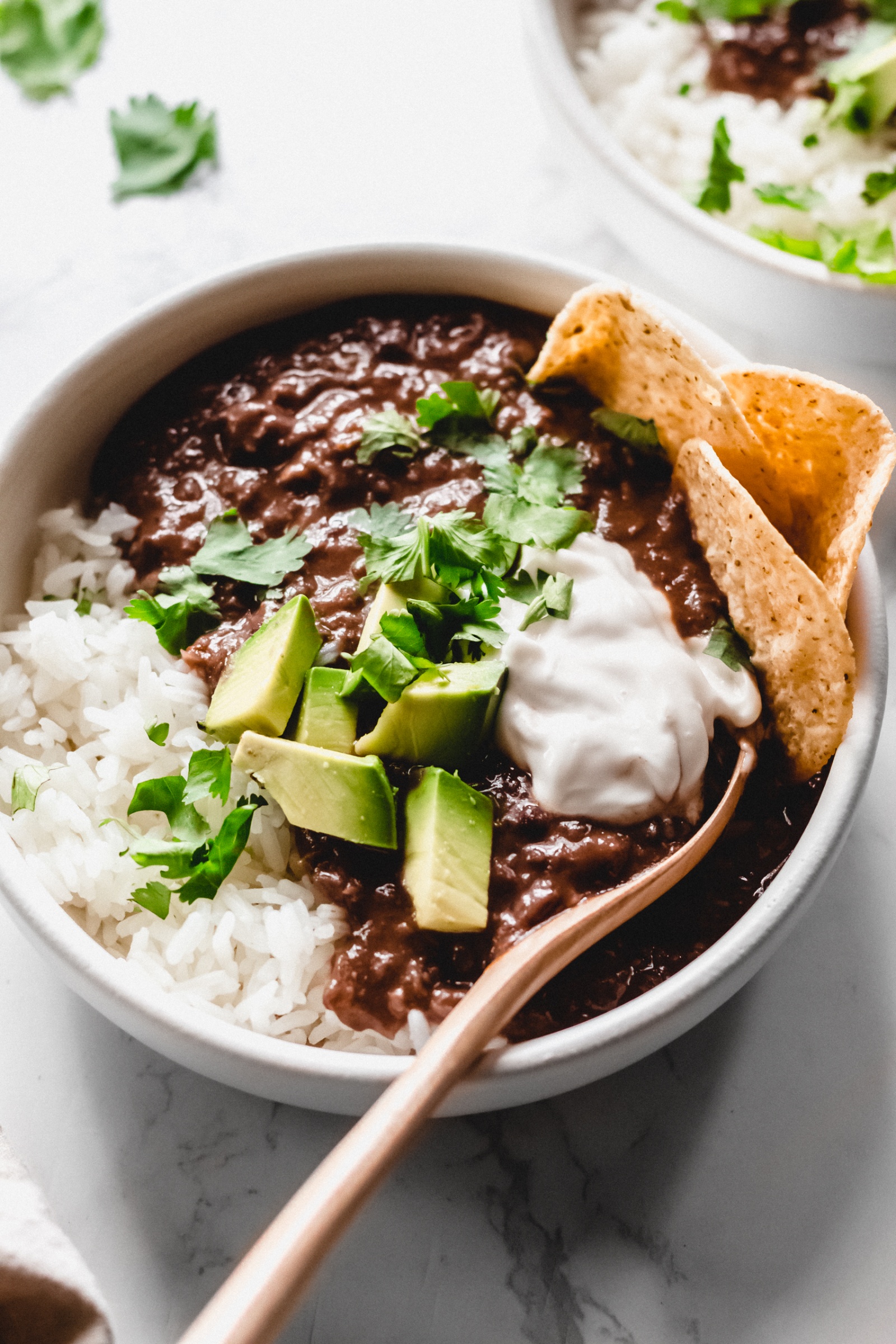 Loaded Baked Potato Soup from The Cookie Rookie
Becky is basically a food-blogging goddess. Her recipes are approachable, diverse, and always delicious!
Beef Fajitas from Diethood
Katerina is pretty much my spirit animal. In a good way.
Chicken Tikka Masala from The Wanderlust Kitchen
One of my older recipes, but still completely tasty!
Chicken and Vegetable Stew with Fresh Herbs from Jeanette's Healthy Living
Let's just call this one French. And then eat it.
Pork Tenderloin with Cranberry, Apples, and Chipotle from Food Faith Fitness
I met Taylor a few years ago in Seattle and fell in love with her blog! Inspiration, coming right up.
Cuban Picadillo Beef from In Aggie's Kitchen
Aggie shared these beautiful pictures of Gina's recipe from The SkinnyTaste Cookbook. So much flavor, so few calories!
Lebanese Turkey Meatballs from The Lemon Bowl
Liz is a complete genius in the kitchen – I love browsing through her site for healthy international recipe inspiration!
Asian Pork Tenderloin with Ginger Glaze from The Food Charlatan
If you're not drooling all over your keyboard, you're doing it wrong.
Five Spice Pork Roast from Foodie With Family
Doesn't this pork look incredible!? You'd never guess it came from a slow cooker. Also, I need those chopsticks in my life.
---